the Lisbonne bench
Mademoiselle Maurice is blending styles 
The Lisbon bench, an unmistakable model of the Aréa brand, was guest at the visual artist, whose art objects of folded paper - impressive in size but also transitory - make public spaces of almost all continents shine in bright rainbow colors. This meeting resulted in a creation which transformed the bench into an object that serves not just to rest but to stimulate thoughts.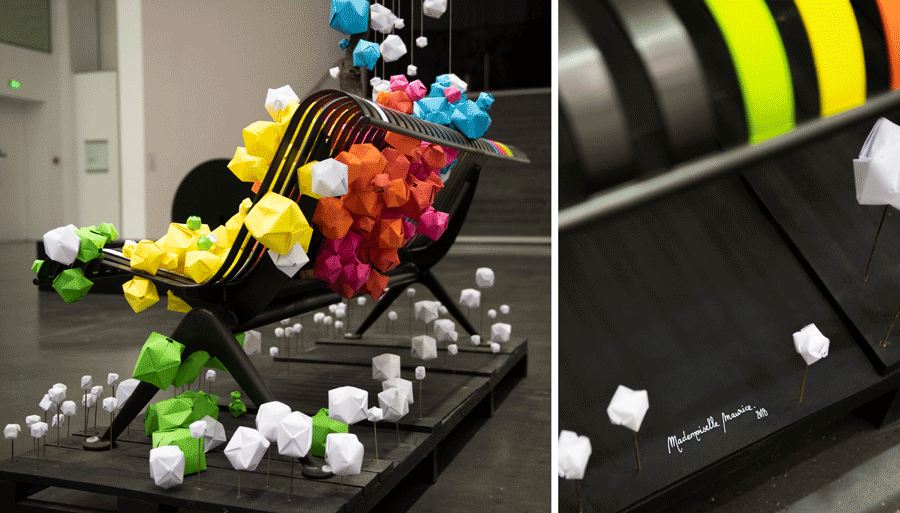 In the category of urban furniture, «Morris, la colonne» [Morris, the lithograph column], is already known. So welcome now «Maurice, the bench». By asking this young street artist to express her personal re-interpretation of the Lisbon bench, Laure and Gilles Boudou continued the work of collaborating with artists of all kinds, which had been initiated by their father, more than 35 years ago. 
Since its foundation, Aréa has pursued the goal of building a bridge between the worlds of art and industry. This bridge, which leaves wide space for graffiti artists, designers, sculptors and photographers, opens up for a colorful vision of public space.
Public space under a new light, in which the bench mutates through memories, rediscover itself and changes…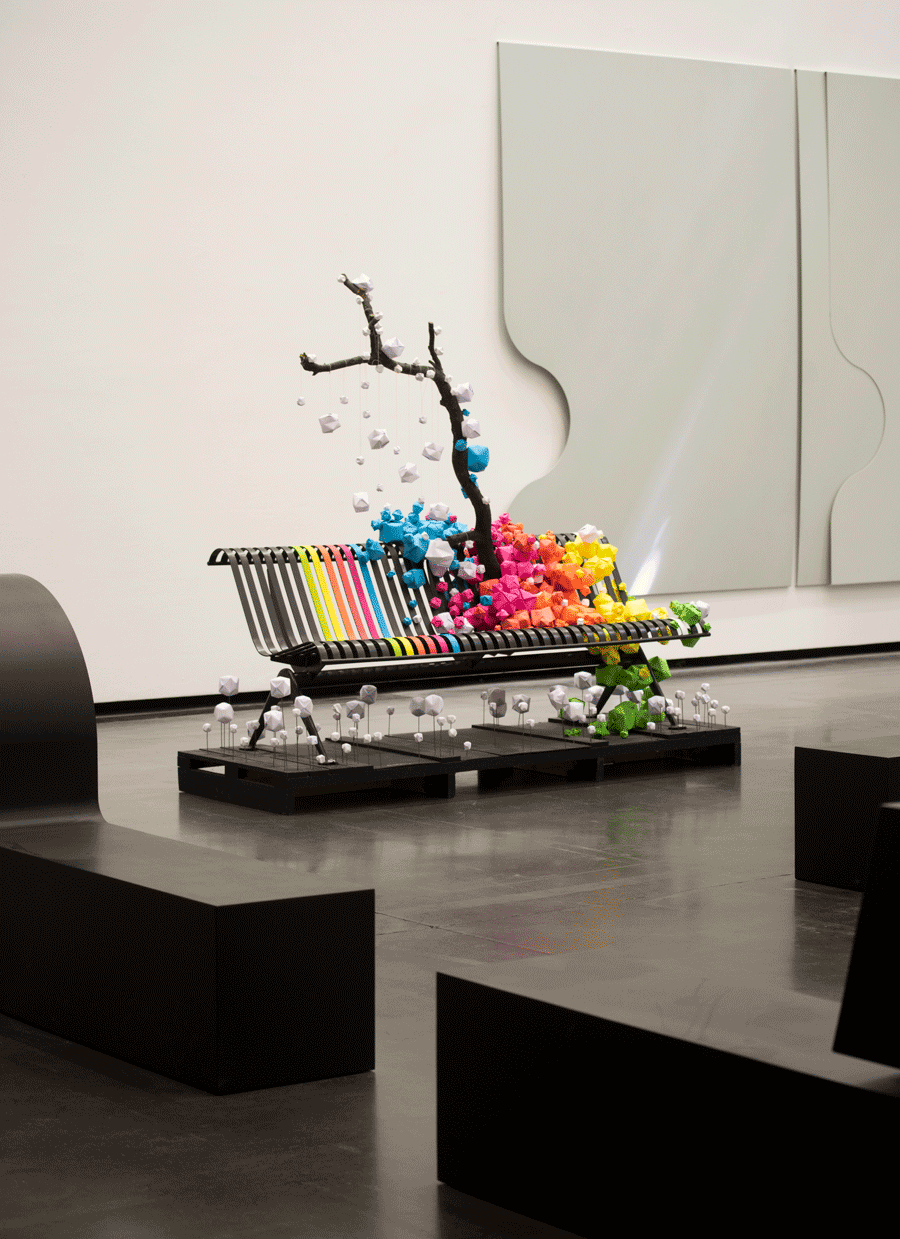 Inspired by street art and expressive urban manifestations, Laure and Gilles Boudou have discovered the world and work of Mademoiselle Maurice, a young artist from the Savoy region in France, based in Marseille. In just a few years, with her ephemeral origami, she has left her mark in art works which trace a poetic, dreamy, colorful, positive and engaged universe. They have contacted the artist, who is not only called for cooperation with well-known fashion brands, but also works for humanity associations and for independent organizations, always entirely invested in her projects.  
After a visit to our manufacturing site and a lively exchange in which the bench has recalled memories, precious images, sensory associations and visions of childhood experienced by each of us [«se faire madeleine», Marcel Proust: In search of lost time], Mademoiselle Maurice left for Marseille.
Six months later, a bench arrives. Not quite the same ... but not quite so different either. Like a street furniture that has gained through all nuances of an artist's universe, this "opens, paving colors duality as attractive as a repulsive reality, wide spaces of abstractions in the city."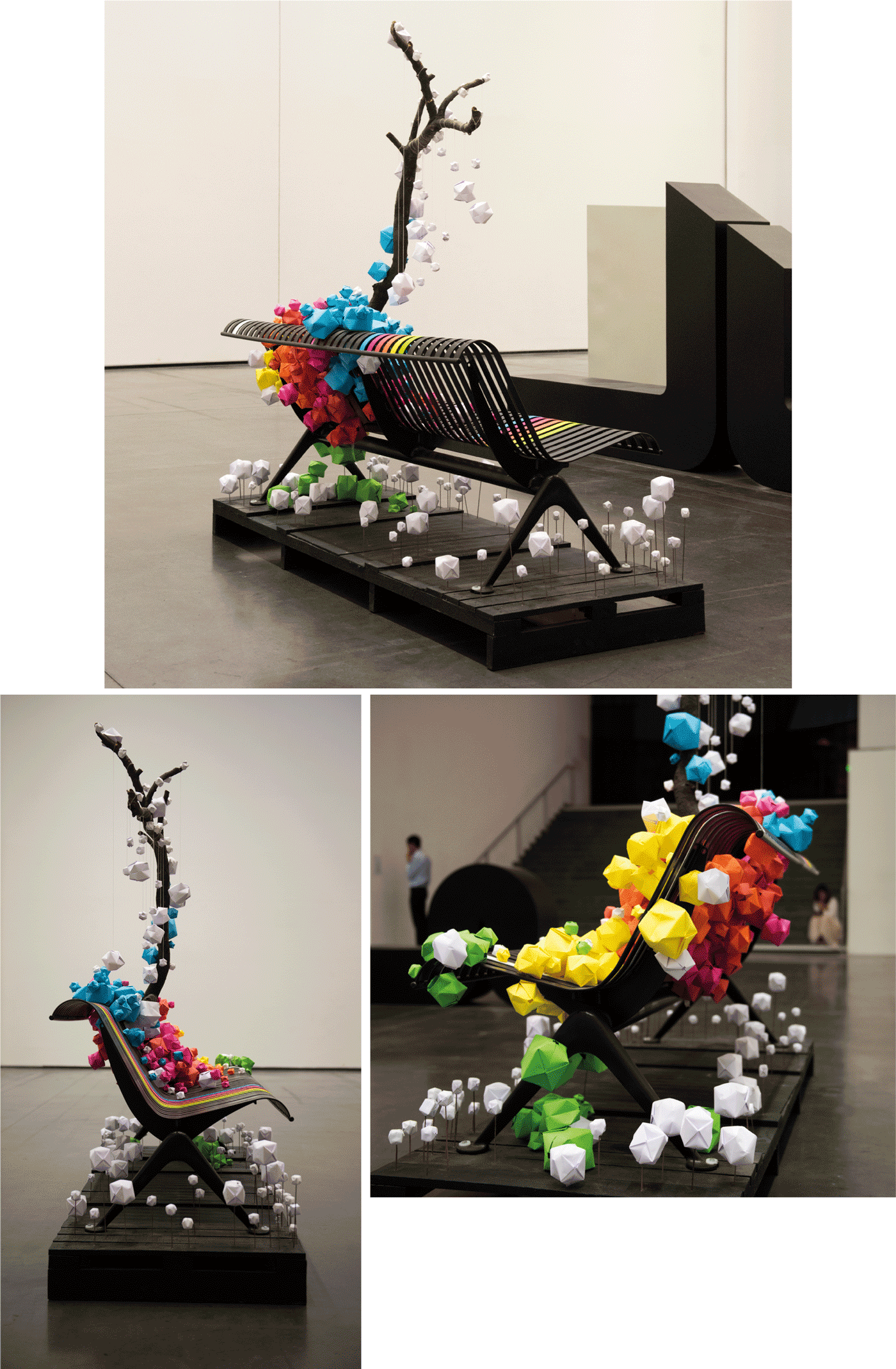 Filled with emotion to (re)discover a bench that has already been made a thousand times: here you can see what results from artistic power and joy, with all freedom of artistic expression. Thank you, Mademoiselle Maurice!
TO THE MADEMOISELLE MAURICE WEBSITE
Date :
Août 2020
/
Author :
Yann-Yves Corlouër et Mademoiselle Maurice
/
Credit :
Etienne Belondrade
Thanks to Mrs. Darrigrand, who opened the doors of the Musée les Abattoirs, Toulouse, [Museum of Contemporary Art in the former slaughterhouse]. The Lisbon bench, created by Mademoiselle Maurice, was exposed in the heart of Livio Marzot's artworks.