The litter bin is subject to several problems which deserve to be taken more seriously... 

IF A LITTER BIN STARTS BURNING, THE FIRE WILL STOP BURNING BECAUSE OF A LACK OF OXYGEN.
No fire danger without «fire triangle»: Flammable material + Oxidiser (oxygen) + Thermal energy supply (flame) 
ABOVE A CERTAIN FILLING CAPACITY THE LITTER BINS ARE GETTING TOO HEAVY AND DIFFICULT TO HANDLE. 
It is much better to reduce the volume of individual bins and have two seperate ones instead.
REGULAR WASTE DISPOSAL PROVIDES RISKS OF OVERLOADING AND EVENTUAL MISSUSE BY BIRDS OR RODENTS. AN INNER LINER, EQUIPPED WITH A LITTLE HOLE AT THE BUTTOMN, EVACUATES ALL LIQUIDS. 
Based on experience, physical contact with the lid usually is avoided. Rubbish is left on the lid and not thrown into the bin. 
AN INNER LINER WITHOUT VALUE AND OF NO OTHER USE THAN FOR A LITTER BIN WILL BE NO SUBJECT TO THEFT.
A locking system with key would make waste collection more complicated as it is kept open very often or is forced to open if the key is not available or lost.
INCREASING THE QUANTITY OF STREET FURNITURE MEANS INCREAST COSTS FOR ACQUISITION, INSTALLATION AND MAINTENANCE. 
Furthermore, the presence of two different pieces of furniture creates confusion : Ashtrays next to litter bins will be used as litter bins and vice versa.
LET'S TALK ABOUT OUR IDEAS
 
To increase people's awareness regarding cleanliness, a litter bin always should be in sight. To achieve this objective an economic furniture at the moment of purchase and for the garbage collector is required…

ADAPTED SYSTEM OF LITTER BINS
A series of litter bins with various shapes and sizes is useful in order to adapt to different characteristics and environments :
- Heavily frequented places
- The interval at which waste is collected
- Determination of location
QUICK AND EASY TO OPEN
After emptying, the litter bin locks automatically with an intergrated system
always perfectly closed, it keeps a clean impression under all circonstances
AN EFFICIENT INNER LINER, EASILY MANAGEABLE…
AND WITH A LITTLE HOLE TO EVACUATE LIQUIDS
Light in weight and equipped with handles, the inner liner made of polyethylen is easy to manage and doesn't damage the litter bin during emptying.
Its cambered button with evacuation hole for liquids turns it useless and without any interest for thieves. 100% recycable, this material is economic and ecological at the same time and avoids use of plastic bags
TO GUARANTEE BINS HAVING AN ASHTRAY OPTION
Cigarette extinguishers as an available option for all our litter bins, which can therefore be used as an ashtray.
MARGUERITE Litter bin system
A LITTLE BIT, A LOT, PASSIONATELY
 
Its design of perforated steel sheets, simple and esthetically pleasing, makes the Marguerite system adaptable to every environment.
Easy to fix, to empty and to clean, the Marguerite litter bins are available with three capacities: 34, 50 and 75 liters. They offer a universal answer to the need of cleanliness in public spaces.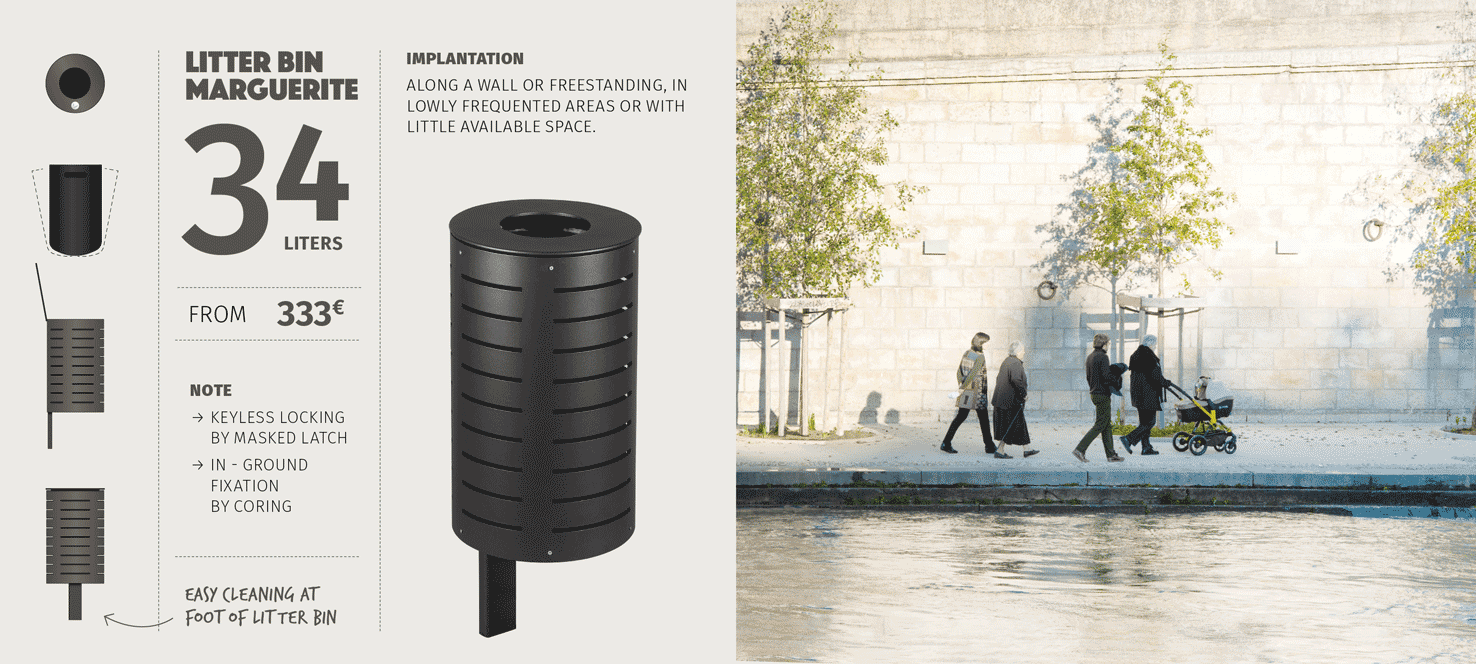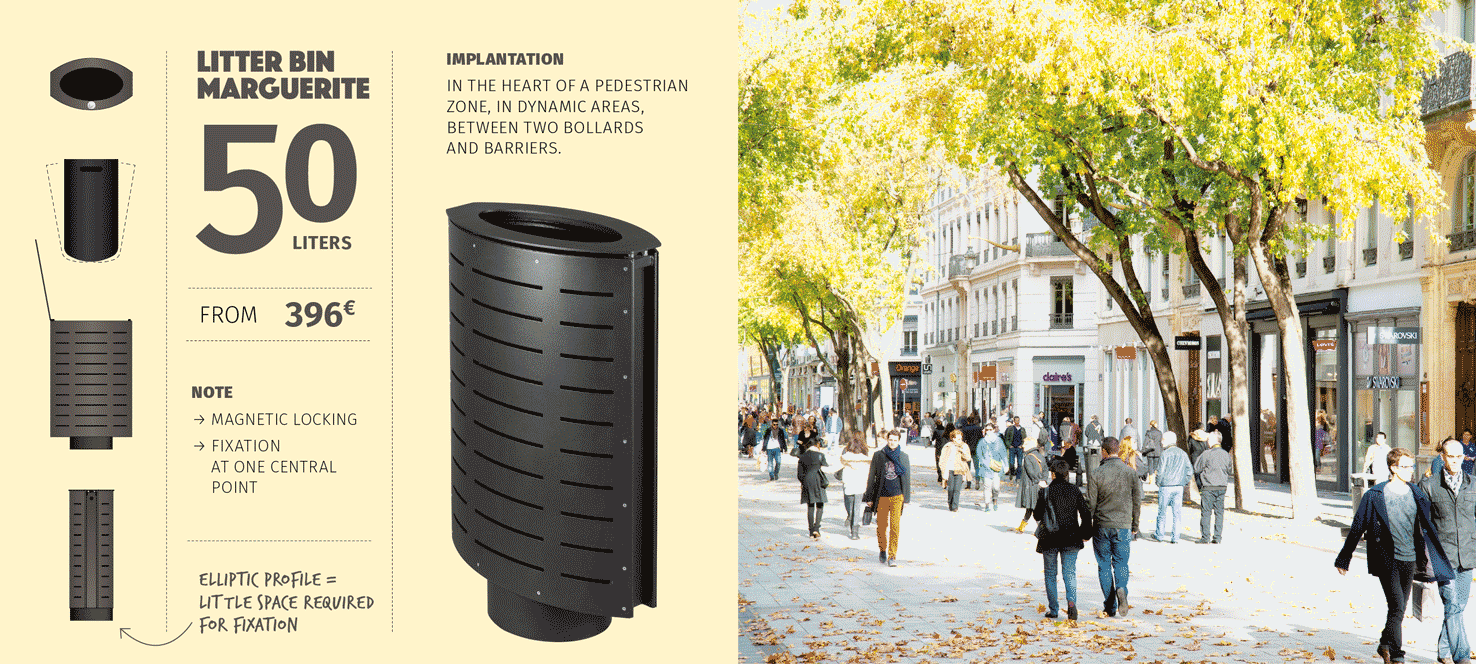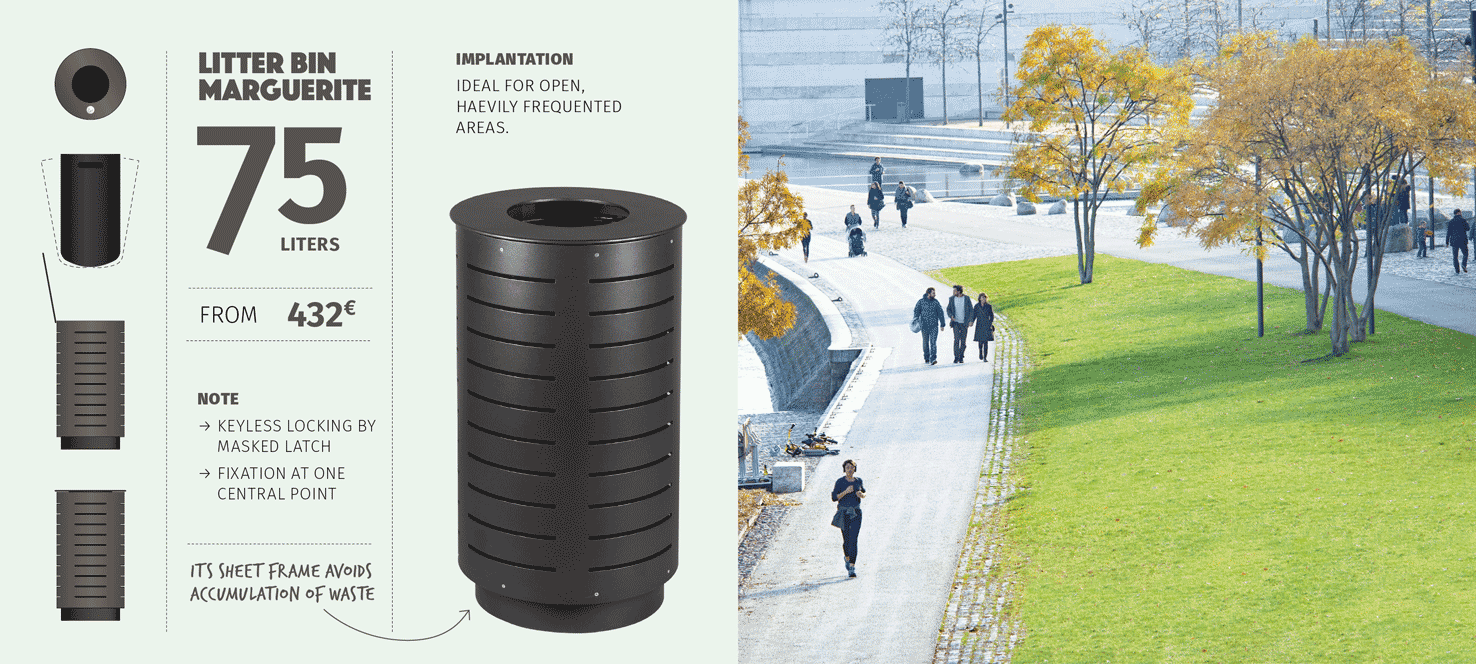 Marguerite Litter bin system